Four years after the launch of the first Raspberry Pi, the Raspberry Pi Foundation has just announced the
Raspberry Pi 3 Model B
.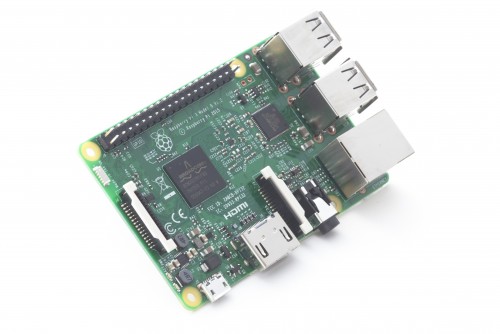 What's new/What's not
The new SoC is the BCM2837, a quad-core 1.2GHz 64-bit ARMv8-A Cortex-A53 (up from a quad-core 900 MHz ARMv7 in the Pi 2).
Also the VideoCore is now clocked at 400MHz for video processing (up from 250MHz) and the 3D graphics processor running at 300MHz (up from 250MHz).
One of the most welcome changes is the addition of onboard WiFi and Bluetooth. The WiFi is compatible with 2.4GHz 802.11 b/g/n networks and the Bluetooth 4.1 supports BLE (Bluetooth Low Energy) both are supplied by the BCM43438.
Other components are (sadly), pretty much the same as the Pi 2. 1Gb RAM, 4 USB 2.0 ports, 10/100 ethernet, HDMI port, 3.5mm analog audio and composite video jack, CSI and DSI connectors for cameras and displays, microSD slot and the same 40 GPIO pins.
A new kernel with WiFi/Bluetooth drivers is already available and at the moment the Raspberry Pi Foundation are evaluating if porting to 64bit the official NOOB OS.
New Raspberry Pi 3 on RPiTC:
- Compared with the base Raspberry Pi 2 the CPU is running at a 33% faster clock rate (1.2GHz vs 0.9GHz) the more modern core also means a more efficient instruction set (especially when performing operations on 64-bit values). I don't know if is possible to overclock the new CPU like the old Pi1/Pi2 so compared to the standard RPiTC2 v1.99 the difference in clock is just 0.1Ghz.
- VideoCore and VP higher clock will not give any performance boost to our RPiTC.
- Integrated WiFi is a good news, we spare a USB port :)
- Bluetooth is also a good addition, can't live without my all-in-one keyboard+trackpad combo :)
- 1Gb RAM is enought for RPiTC, we didn't need more in most configurations (browser like iceweasel/chromium will still suffer a lot...)
- USB 2.0 ports hub has been improved, now some power hungry devices will work, but still v2.0 not v3.0
- 10/100 ethernet, no Geth, really? Well...
Last RPiTC2 v1.99 will partially work in the new Raspberry Pi3 board. Ill release (in two weeks) a new RPiTC3 ready version fully compatible with Pi2 and Pi3. In the meanwhile if you want to test the new Pi3 with RPiTC2 you have to manually update the Kernel and the blobs files.
I have no plan to create a 64bit RPiTC OS version, at the moment most TC related client are ARMv7 only.
Here some benchmarks:
https://www.raspberrypi.org/magpi/raspberry-pi-3-specs-benchmarks/